SHELMET PRECISION CASTING CO.
Contact Info
Phone: 920-622-3344
Fax: 920-622-4049
Street Address
550 County Rd. GH
Wild Rose, WI 54984
Company Details
# of Employees: 50
30000 Sq. Ft.
Certification(s): ISO 9001:2015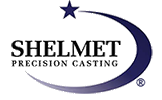 Service Categories
Castings - Aluminum
Castings - Brass
Castings - Ferrous
Castings - Investment
Castings - Non-Ferrous
Castings - Stainless Steel
Castings - Steel
Rapid Prototyping
About Us
We provide highly detailed investment castings while incorporating designs other firms cannot.  Castings can eliminate most, if not all, secondary machine operations to yield cost savings through lower waste and faster delivery. Shelmet innovatively pushes process limits, incorporating designs which are not obtainable in machining. We pour over 100 different alloys.
See Our Videos
Learn More